What are the development trends of the construction industry? Designer Stefano Boeri has always been advocating connection between architecture and nature. If an architecture could serve as an intermediary for the harmonious coexistence of human and nature, then it will become the architecture of future and hope.
 Ideal housing trendsz
Urbanization has greatly improved people's living standard. Nowadays, a residence is not just a place to live, but also a comfortable lifestyle. It is not only a variety of size or space, but also a place where people can resonate with each other, where human and nature create symbiosis together.
After extensive research and discussion, a new form of architecture was created by reinstating green into cities by adding sky gardens and reinvigorating our bond with nature. The industry refers to this kind of practice as the fourth generation housing!
Showcase of fourth generation housing
After early exploration and practice, the fourth generation housing has evolved into a mature and innovative architectural model. Among which, the Newton Suites in Singapore is a 36-storey residential tower designed to create houses in the sky, integrating sun shading elements and creeper screens; 25 Green, a new residential building in Turin, Italy, generally known as the urban treehouse, has diversified green throughout the building; The famous Kensington roof garden in UK is divided into three themed gardens: a Spanish garden, a Tudor style garden and an English water garden…..
Phnom Penh's first fourth-generation residence
To meet the high-end residential needs of urban elites, Prince integrates the fourth-generation housing concepts into the first CLD urban complex – Prince Happiness Plaza. The sky garden located on the fourth floor is a manifestation of fourth-generation housing concept.
The designers introduce sunshine, breeze and waterfront scenery to the project to create a humanistic vibe. Three themed amenities are in place to create a journey of happiness: the realm of love: the love square to witness the persistence of love; the realm of water: the 700㎡ sky swimming pool with landscape; the realm of time: a 160m-long circular fluorescent runway… Every urbanite can escape from the hustle and bustle of the city and explore the beauty, tranquility and comfort of life here.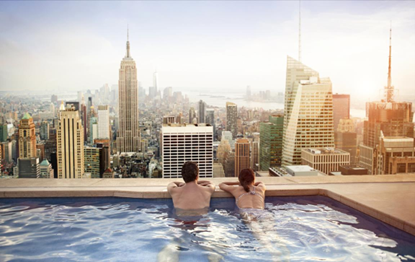 An urban benchmark
Prince Happiness Plaza is based on the concept of ecological living and depicts idyllic lifestyle in the heart of bustling city. It will become a benchmark for ecological housing and lead Phnom Penh's real estate industry into a new era.
Building a better life
Floor area varies from 32 m² to 96m². The 32m² studio features on lighting and high space utilization; The 52m² one-bedroom apartment has a square layout, excellent ventilation and lighting; the 96m² apartment offers two comfortable bedrooms. The project offers multiple options for urban elites.
Prince Group will continue to uphold the concept of "Building a Better Life" and provide lifestyle solution that create harmony between human and nature.
Buy now and enjoy more offerings:
Buying a risk-free property: monthly payments start before handover, guaranteed "buyback" at original price 5 years after handover.
Additional benefits: buyers will become exclusive Black Card holders, granting them access to exclusive VIP services such as exclusive discounts at Cambodia Airways and Prince Manor, customized high-end entertainment services at Prince Club, among many others.
Hotline: (+855) 23 951 666 / 23 952 666
Address: No. 93, Preah Monivong Blvd, Sangkat Tonle Bassac, Chan Chamkarmon, Phnom Penh.